Traveling is the best thing that can happen in life. I think it is one of the most rewarding experiences.
Whenever I go on vacation, I am filled with joy, positive emotions, unforgettable impressions, pleasure, cultural knowledge, lots of photos, and, of course, local souvenirs. 
Like many travelers, I typically bring something memorable home from a trip like books, jewelry, or souvenirs. 
During our trip to Japan, my family and friends asked me to buy them a souvenir of a Japanese beckoning cat. Needless to say, the Japanese Lucky Cat is the perfect gift, but it turned out that there is a large selection of souvenirs to choose from, and not every cat is the same. The question is, how do you decide which one is the best choice? 
Let's figure out which beckoning cat will be the proper gift for you and your friends.
Maneki- Neko or Japanese Lucky Cat
Japan's Lucky Cat, Maneki-Neko, also known as a beckoning cat, is an incredibly famous figurine. It is believed that beckoning cats bring good luck, prosperity, and good fortune to their owners, businesses, and homes.

The Maneki-neko appeared for the first time during the late Edo period.
According to legend, during a rainstorm, a wealthy man took refuge under a tree next to a temple. His attention was drawn to a cat that seemed to beckon him from the temple steps. Soon after following the cat inside the temple, lightning strike the tree he had been standing under. After the cat had saved his life, the man donated a great deal of money to the temple as a way of expressing his gratitude. A statue of the cat was built in his honor at the shrine after the man had passed away. 
Inspired by the legend of the beckoning cat, Japanese artist Utagawa Hiroshige painted a figurine of the cat and it was sold in the Senso Temple in Tokyo in 1852, but only became widely known in 1876, after the articles and advertisements were published.
Nowadays, Maneki-neko has become a very popular and shops, restaurants, dry cleaners, bars, casinos, hotels, nightclubs, and other businesses often display figurines near their entrances for good luck. 
There are many variations of traditional Maneki-neko, including those with movable paws, bibs, and bell collars. 
In addition, for the extra charm to bring more prosperity and fortune, a cat figurine may also hold a fish or gemstone that symbolizes good luck and wisdom, or a Japanese coin or a small hammer, which represents wealth.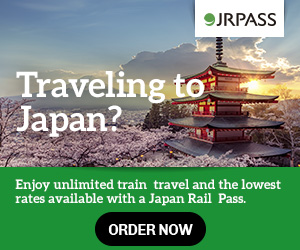 Raised Paw:
It is common to see Maneki-neko with raised right or left paws, or sometimes both. 
The beckoning cat with its left paw raised will bring in more customers and profit for the business. 
With its raised right paw, this figurine will bring prosperity and good fortune to your home. 
The two paws up indicate both good fortune and business success. 
Color of Maneki-neko:
Originally, Maneki-neko was white, but over the years, different color variations have appeared on the market. 
White color typically represents good luck, good fortune, and happiness. 
Gold is good for wealth and prosperity. 
Black beckoning cats are used to ward off evil spirits. 
The red color will bring good health. 
Pink Maneki-neko brings love, good relationships, and romance. 
Green or Blue cat figurine used for academic success. 
Where to Buy Maneki-neko Cat and other souvenirs in Tokyo and Japan:
Nakamise Shopping Street at Sensoji Temple, Asakusa, Tokyo 
The famous Nakamise shopping street in Asakusa is located right in front of the incredibly beautiful Sensoji Temple. It is 250 meters long and has 89 shops selling traditional souvenirs, toys, sweets, and snacks.
The Nakamise shopping center is one of the oldest in Japan. With the establishment of the Edo Shogunat under Shogun Tokugawa (Japan's military government from 1603 to 1868), the population of Edo (now Tokyo) grew, as did visitors to Sensoji Temple.
During 1688 – 1735, Sensoji Temple granted special rights to neighbors who served visitors to open their shops.
That was the beginning of Nakamise.
Over the years, the number of shops increased, and the town became one of the most well-organized temple towns in Japan.
This day, Nakamise is one of the most attractive shopping streets among tourists. The stores offer a great variety of street food, traditional arts and crafts, clothes, accessories, toys, and so much more.
Nakamise is usually very crowded and full of tourists, so go to that place early in the morning. If there are too many people on the street and you want to avoid the hustle, then go behind the shops on both sides of Nakamise. Also, there are many other retail stores and restaurants near the temple where you can also enjoy Japanese hospitality.
Most shops are open from 10:00 to 19:00. Some open at 8:00 and some close before 20:00. 
And, of course, do not forget to visit the temple and enjoy its remarkable beauty and impressive grandeur. 

Don Quijote
Don Quijote, which is also known as Don Don Donki or Donki, is the largest Japanese discount store chain. Currently, it has 160 locations across the country.
Most of Don Quijote's stores are open 24/7, making it convenient for tourists who forget to buy souvenirs or try to spend the last of their cash before heading home.
There is a wide selection of products available at the stores, including sweets, snacks, clothing, accessories, souvenirs, medicine, cosmetics, travel bags, suitcases, cosplay supplies, and electronics.
When you shop in Japan, normally you have to pay a tax on the purchase price between 8% and 10%, but at Don Quijote tourists who spend 5.000 JPY or more will be able to make tax- free purchases. After paying, you will receive your goods sealed in a clear bag, so keep your receipts and show them at the border customs office before leaving. 
You can also pay with most major credit cards at Don Quijote, including JCB, American Express, Diners Club, UnionPay, etc.
I hope this post was both entertaining and informative.  See you next time. 
If you would like to contribute to my blog, you can please do so here
Connect with me on Social Media: